Online Innovation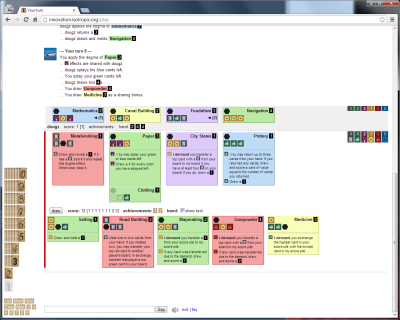 No Place Like Home
The current draft version of the third expansion, Innovation: No Place Like Home (aka "Cities"), is now available. Rules for the expansion are available online.
Things to know about it:
City actions aren't affected by

Ptolemy

2

and

Sergey Brin

10

the way they should be.

Istanbul

3

was

Constantinople

3

. Now it's

Istanbul

3

, not

Constantinople

3

. Why'd I change it? I can say. Because it fits on the card that way.
Figures in the Sand
I've recently added the Figures in the Sand expansion set. This expansion required doing lots of rewrites on the base and Echoes cards, which probably introduced bugs. You may see an increased number of crashes even in games that don't use Figures.
The following are known issues with the current implementation:
The word "instead" in

Erwin Rommel

8

is changed to "first". "instead" isn't possible to implement without major changes I'm unwilling to make for one card. Hopefully this is close enough.
The wording on

Statistics

5

is different from the printed version, to reflect how the card is actually supposed to operate.
Some of the longer names have been abbreviated (eg "Antonie van Leeuwenhoek" appears as

A. van Leeuwenhoek

5

) so as to fit better in the card box (at least in my browser, YMMV).
A lot of things that used to be automatic are now done in slo-mo — that is, you have to explicitly specify the order in which to tuck/score/return multiple cards in cases where you didn't have to before. (Karma effects mean the order may matter where before it didn't.)
Many cards are (IMHO) imprecisely written or open to interpretation. (What does

Bicycle

7

do with

Michelangelo

4

?) I have taken my best guess at many things. I have not trolled extensively through BGG threads to find official pronouncements; if there's a single errata document somewhere I haven't found it (but I haven't looked very hard either).
If you find a bug that's not in the above list, you can report it to dougz+innovation@isotropic.org. Include the link to the game log.